Be a Pepper – 2ª Edição
Já pensou que bacana se existisse um evento onde fosse possível dividir um palco com fãs de RHCP e tocar/cantar músicas de sua banda favorita? Pois este evento existe e sim, você pode fazer parte!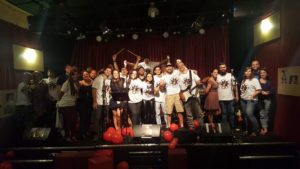 Este é o Be a Pepper, um projeto criado por Khayam Ghazzaoui e idealizado por ele e outros fãs da banda. Ao pé de letra, "seja um Pepper". Um evento de todos, cuja paixão pelo Red Hot Chili Peppers é o tema. Músico pode virar espectador, espectador pode virar músico e a ordem no palco é: tudo é permitido. Músicas raramente tocadas, as famosas, e claro, as improvisadas!
Você toca algum instrumento? Suba ao palco conosco! Não toca? Suba também! Tem vergonha? Sem problemas, basta cadastrar-se como "platéia".
O intuito deste evento não é tocar perfeitamente. É sentir-se em casa estando no palco entre amigos que gostam de dividir as mesmas emoções. E você escolhe quais as músicas serão tocadas!
A primeira edição foi um sucesso e a próxima irá ocorrer no dia 04 de Dezembro, em SP.
Quer fazer parte? Inscreva-se no site do evento (vendas on-line e cadastros individuais!), escolha as músicas e fique por dentro do Evento no Facebook  (lá há um post com FAQ onde é possível tirar todas suas dúvidas) e curta a página do conceito aqui.
Confira abaixo algumas fotos da última edição 🙂
Vídeos:
Vejam mais aqui.
Não esqueçam: O evento rola dia 04 de dezembro, as vendas serão online e no dia só será preciso levar um documento com foto para entrar. Compareçam e divirtam-se!
Links:
Site oficial para compra do Ingresso e seleção das músicas
Página Be a Pepper no Facebook