Veja como foi a primeira edição da Peppers Fest SP
Na última sexta-feira, dia 5 de setembro, rolou em São Paulo a primeira edição da Pepper's Fest SP, projeto idealizado por fãs e membros das bandas Psycho Peppers e Funky The Bump.
A festa aconteceu no Blackmore Rock Bar, um ótimo lugar para esse tipo de festas localizado no bairro de Moema.
Os fãs chegaram cedo e estavam todos ansiosos para passar uma noite inteira curtindo muito RHCP. Então a Funky The Bump abriu a festa tocando 20 músicas e agitando a galeracom um setlist muito bem distribuído e que animou a todos os presentes, desde os fãs mais antigos aos mais novos.
* No final do show da Funky The Bump, houve um pequeno incidente. Durante a execução de Higher Ground que encerraria o show da banda, um fã pisou de mal jeito e acabou sofrendo uma grave lesão no joelhoe o show foi interrompido. Minutos depois o fã foi levado pelo SAMU e passa bem.
Após a preocupação de todos no local, a festa seguiu em frente e foi a vez da Psycho Peppers subir no palco. O setlist foi recheado de clássicos e músicas antigas, levando em êxtase todos os fãs que jamais imaginaram ver Sikamikanico ao vivo, por exemplo.
No final do seu setlist, a banda Psycho Peppers convidou a Funky The Bump para uma jam durante Higher Ground (a única música que se repetiu durante toda a festa) e Give It Away.
Veja fotos
FOTOS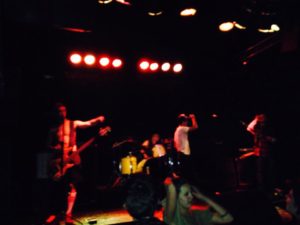 E assim foi a Peppers Fest SP, se você perdeu, ano que vem terá mais… e para você que é do Rio de Janeiro, preparem-se para CHILI PARTY