O que esperar do próximo álbum? (Parte 5)
Voltamos com nossa coluna sobre "O que esperar do novo álbum do Red Hot Chili Peppers", dessa vez com a fã e jornalista Ingrid Natalie Leão.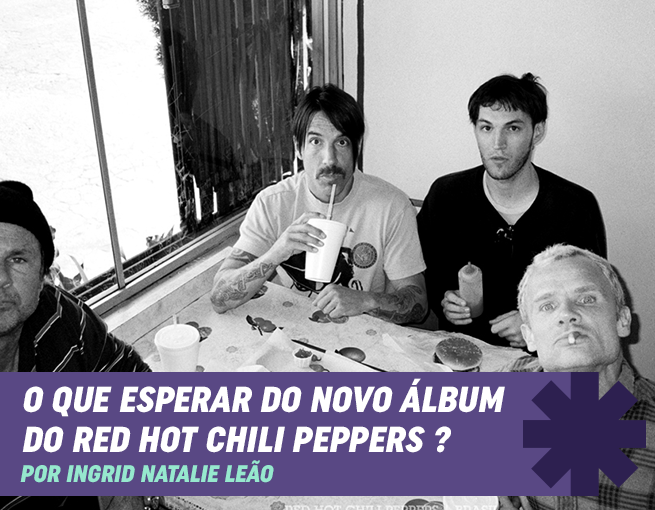 Desde que me tornei fã de Red Hot Chili Peppers fui aprendendo a entender e apreciar cada fase da banda. Um grupo que tem uma história de 33 anos e 10 discos de estúdio gravados merece todo respeito. Cada álbum representa um ciclo, um estado de espírito e experiências de vida dos integrantes. Com o sucessor de "I'm with you" (2011) não será diferente.
Primeiramente, devemos considerar a evolução do guitarrista, Josh Klinghoffer. O jovem músico está mais entrosado com Anthony, Chad e, principalmente, Flea. Os solos dele estão mais consistentes e precisos. Além disso, ele está muito mais a vontade no palco. Segundo, a mudança de produtor. Para este novo trabalho eles chamaram Brian Joseph Burton (Danger Mouse), que já trabalhou com U2, Gorillaz e Snoop Dogg. Ele claramente trará um novo ar para banda, porém ser perder a essência principal, o funk rock.  Vale ressaltar que Red Hot Chili Peppers trabalhou com Rick Rubin desde o BSSM. Finalmente, temos o estágio atual de Anthony Kiedis, principal letrista da banda. Ele se tornou pai, largou o vício das drogas e leva uma vida mais regrada. As canções estão mais leves, mas continuam tão profundas quanto antes.
Ainda não foi divulgada a data oficial de lançamento do próximo álbum. De acordo com os próprios músicos o trabalho já está bem avançado. O processo de mixagem iniciou no dia 21/03 e ficou nas confiáveis mãos de Nigel Godrich que traz em seu currículo Radiohead, U2, Beck e Paul McCartney.
Todos os fãs estão extremamente ansiosos e não é por acaso. Será o novo registro de inéditas dentro de 5 anos. O resultado deverá ser o mais positivo possível. Certamente teremos os marcantes slaps de baixo de Flea, a desenvoltura técnica impecável de Chad Smith na bateria, um Josh mais preparado e um Anthony Kiedis totalmente inspirado nas composições. A sonoridade provavelmente terá texturas diferentes. Afinal, eles já exploraram diversos universos dentro do rock'n'roll. Desde "By The Way" (2002) o grupo vem experimentando novos sons e a mesma linha seguirá no próximo álbum. Mesmo se for um material mais suave, veremos toda a capacidade das nossas incríveis pimentas californianas. Eles nunca decepcionam.
Ingrid Natalie Leão (São Paulo / SP)