Download grátis de músicas da turnê europeia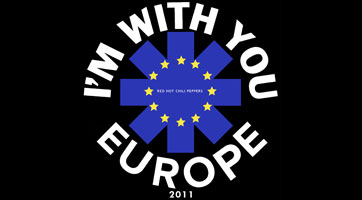 A banda volta hoje aos shows, após a recuperação da cirurgia que Anthony Kiedis sofreu.
Foram quase 4 meses longe dos palcos.
Hoje o show será em Tampa – Florida, e dará inicio a parte Norte Americana da turnê da banda.
E para comemorar a volta, o site oficial da banda disponibilizou um Live EP da turnê europeia para download gratuito.
São músicas escolhidas por Chad Smith como suas apresentações preferidas dessa parte da turnê.
As músicas são:
Look Around (19.11.2011 Birmingham, UK)
Dani California (19.11.2011 Birmingham, UK)
Monarchy Of Roses (15.11.2011 Manchester, UK)
If You Have To Ask (14.11.2011 Manchester, UK)
Give It Away (11.11.2011 Milan, ITA)
Para baixar é facil.
Entre no link http://bit.ly/FreeLiveEP.
Clique em FREE MP3 DOWNLOAD. Na próxima página confira o valor $0,00 e clique em Check out.
Caso ainda não tenha cadastro, faça-o clicando em Register here e coloque seu e-mail e uma senha. Caso já tenha, apenas faça o login.
A página será redirecionada com uma nova confirmação do valor. Clique em PLACE ORDER. Pronto, "compra" feita.
Agora clique em Download All e abrirá uma página com uma confirmação. Nesse momento é possível que seja feita a instalação da versão mais recente do plugin do Java.
Clique no botão Start Download. O download irá começar através do aplicativo aberto em Java ou através do iTunes.
Selecione o local para salvar e aguarde o fim do download.
OBS: Não sabemos até quando esse download estará disponível, pois é um "presente" do site oficial da banda. Portanto caso deseje aproveitar, não deixe pra depois e faça o download o quanto antes.