Flea mostrou que tem o disco do brasileiro Sivuca em sua coleção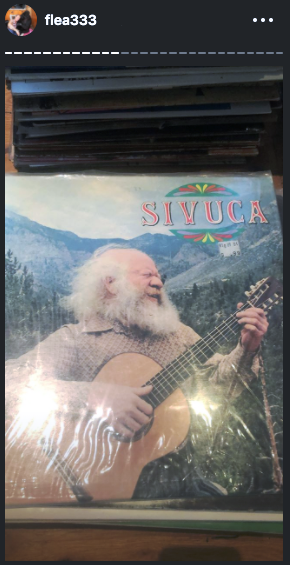 Em sua conta no Instagram, Flea publicou uma série de stories mostrando alguns discos de vinil de sua coleção, enquanto ele tentava colocar em ordem alfabética.
Em um deles é justamente um álbum do maestro, compositor, multi-instrumentista, e cantor brasileiro, Severino Dias de Oliveira, o Sivuca.
Suas composições e trabalhos incluem ritmos como: choros, frevos, forrós, jazz, baião, música clássica, blues, entre muitos outros.
Será que partiu dai a inspiração para "Did I Let You Know" ou "Dance Dance Dance"?

O álbum do Sivuca que Flea compartilhou é homônimo lançado em 1973 pela Vanguard/Copacabana, e contem parcerias com grandes nomes como Hermeto Pasqual, Ari Barroso, Jocafi e até uma versão da clássica "Ain't No Sunshine" de Bill Withers.
Sivuca – Sivuca (1973)
Adeus Maria Fulô (Sivuca/Teixeira)
Tunnel (Hermeto Pascoal)
Amor Verdadeiro (True Love) (Sivuca/Bandeira)
Ponteio (Edu Lobo/Capinam)
Arrasta Pé (Partytime, Northeast Brazil) (Sivuca)
Você Abusou (I'm Free As A Bird) (Antonio Carlos/Jocafi)
Inquietação (Foolishness Of Young Love) (Ary Barroso=
Ain't No Sunshine (Bill Withers)
Lament Of Berimbau (Sivuca)
Rosa Na Favela (A Rose Born In The Ghetto) (Sergio Ricardo)
Faleceu em 14 de dezembro de 2006, depois de dois dias internado para tratamento de um câncer, que já o acometia desde 2004.