Entrevista com o diretor de Monarchy Of Roses
O Red Hot Chili Peppers Brasil conversou com o diretor Marc Klasfeld sobre o belíssimo video de Monarchy of Roses.
Marc também dirigiu o videoclipe de The Adventures Of Rain Dance Maggie.
Essa foi a PRIMEIRA entrevista em que ele fala sobre o vídeo do Chili Peppers, Monarchy Of Roses.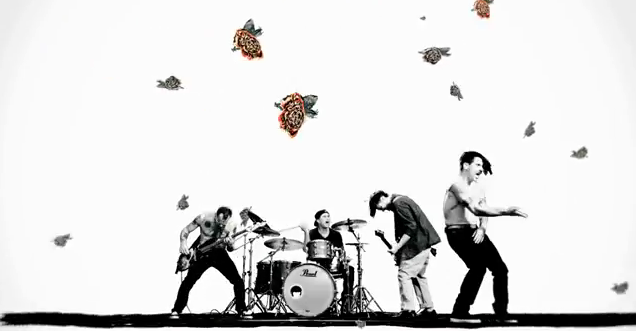 RHCP BRASIL: 1- Como este projeto chegou até você?
Marc Klasfeld: Eu suponho que como a banda ficou feliz com o video de "Maggie" e do jeito que saiu, eles me enviaram esta música para escrever um roteiro para ela. E eu fiquei muito feliz com isso. Na juventude, eu era um grande fã do RHCP e continuo sendo, então é sempre prazeroso e emocionante trabalhar com alguém que você admira.
RHCP BRASIL: 2- E como foi a decisão de trabalhar com as artes de Raymond Pettibon? Foi sua idéia ou o Chili Peppers já tinha isso em mente?
Marc Klasfeld: Eu mandei para o Anthony uma amostra de uma baseada em design gráfico. Ele gostou da ideia, mas ele queria usar Raymond Pettibon ao invés do estilo/arte que eu estava propondo, que na verdade tornaram minhas idéias melhores. Anthony e Flea conversaram com Raymond e colocaram-no no projeto para nos dar autorização para seguir em frente.
RHCP BRASIL: 3- Qual foi a primeira etapa para fazer o vídeo? Poderia nos explicar o processo de criação?
MK: Bom, nos gravamos a banda com um fundo verde, então nos pegamos fotos do trabalho de Raymond mais as sequencias em vídeo da banda e eu editei tudo num simples animatic* do jeito que eu via tudo funcionando. Depois enviamos os animatic para os animadores que logo depois iriam me enviar de volta o trabalho deles para eu fazer algumas considerações. Nós ficamos pra lá e pra cá nisso aproximadamente por 6 semanas até que nós tínhamos terminado o vídeo.
* Animatic é um termo usado para uma prévia de animação, saiba mais
RHCP BRASIL: 4- Vocês gravaram com um fundo verde, mas parece uma gravação ao vivo porque a performance da banda é muito real e natural, como nos costumamos ver nos palcos…
MK: …Eles são artistas incríveis, então é muito fácil captura uma apresentação energética e magica. Existem várias de grandes sequencias que nos nem usamos também.
RHCP BRASIL: 5- Eu sei que você e a Rockhard são especialistas em videoclipe, mas eu também sei que a cada novo trabalho, um novo desafio é iniciado. Qual foi o maior desafio que vocês encontraram para completar este vídeo?
MK: Hoje em dia os desafios em fazer videoclipe é que não há muito tempo ou dinheiro, e também me parece que não há vontade ou paixão na indústria da música para fazer algo grande. Mas RHCP veio com tempo e postura diferente, então eu sabia que eu poderia confiar neles. E embora não houvesse tanto tempo ou dinheiro como eu teria gostado, havia uma paixão e vontade de fazer algo grande e interessante e novo e especial, eu sinto que nós conseguimos isso. Mas mesmo assim não foi fácil.
RHCP BRASIL: 6- Quanto tempo demorou para terminar tudo?
MK: Da data de gravação até a data de lançamento foram aproximadamente 6 semanas.
Assista o video
© 2011 WMG
"Monarchy of Roses" by Red Hot Chili Peppers from 'I'm With You.' Video directed by Marc Klasfeld and inspired by the work of Raymond Pettibon.
The Red Hot Chili Pepper's new album, 'I'm With You,' is available everywhere now.
Download 'I'm With You' on iTunes: http://glnk.it/8w
Raymond Pettibon: http://en.wikipedia.org/wiki/Raymond_Pettibon
Links:
Website: http://redhotchilipeppers.com/
Facebook: http://www.facebook.com/ChiliPeppers
Twitter: http://twitter.com/#!/chilipeppers
Making Of